The Delhi – Mumbai war might never come to an end! One could spend hours on Youtube and browse through a hundred comics trying to rest this seething dyad but never come to a conclusion. And how could they? Delhi happens to be capital of formal education, history, politics, and liberalism. Not just that, brace your hearts – the way we party in Delhi is nothing compared to the way Mumbaikars do in Bandra.
Ah, fine. Don't hate us too much now. We're all aware of your little fantasy of going around in your sports shoes, bumping into celebs on the path in Jogger's Park. But before you get your hopes up of running into Victor Banerjee, have you heard about Lodhi Garden?
Found in the affluent area of Lodhi estate, Lodhi Gardens is surrounded by some of the most prominent landmarks in the city. A South Delhi charmer, Lodhi Gardens are famed for being a loved favorite amongst university students and nature enthusiasts alike! From morning walkers to post-college 'chilling,' one can see life sprouting as the daylight breaks in.
One will often confront Delhi University students, especially the ones who go to South Campus because of the closeness in proximity – from the poise girls of Lady Shri Ram College to the debating junkies from Sri Venkateswara College. To put this timeless saga of the metros to rest, let us talk about the one historical wonder that happens to be one of the most alluring highlights of our very loved Dilli – Lodhi Gardens, friends!
Acting as a constant reminder to Indians and tourists of the rich cultural history that marks the foundational years of Delhi as a capital city, Lodhi (AKA Lodi) Garden is an exemplary site to visit. It's an enormous city park that spreads over 90 acres of land, you can pretty much point at the lushness from another spot in Delhi! A triple tomb location, on this beautiful land rest the tombs of Mohammed Shah's Tomb, Mohammed Shah's Tomb, Tomb of Sikandar Lodi, Shisha Gumbad and Bara Gumbad and the remains of architectural genius displayed by the Lodis back in the 15th century. Today, it falls under the administration and protection of the Archaeological Survey of India.
This pre-colonial beauty comes with a shimmering lake, bonsai trees, rose gardens and a park for everyday use by the citizens – all in all, it's a wonderland for a day's escape from the city light!
Lest we say too much, we're going to let the experts do their job. To waltz with the history that marks the history and culture of our civilization, go sign up for that delightfully peaceful heritage walk! Or let us give you an even better option: for a de-stress, tranquilizing early morning to ward off exam pressure, get your tracksuits out.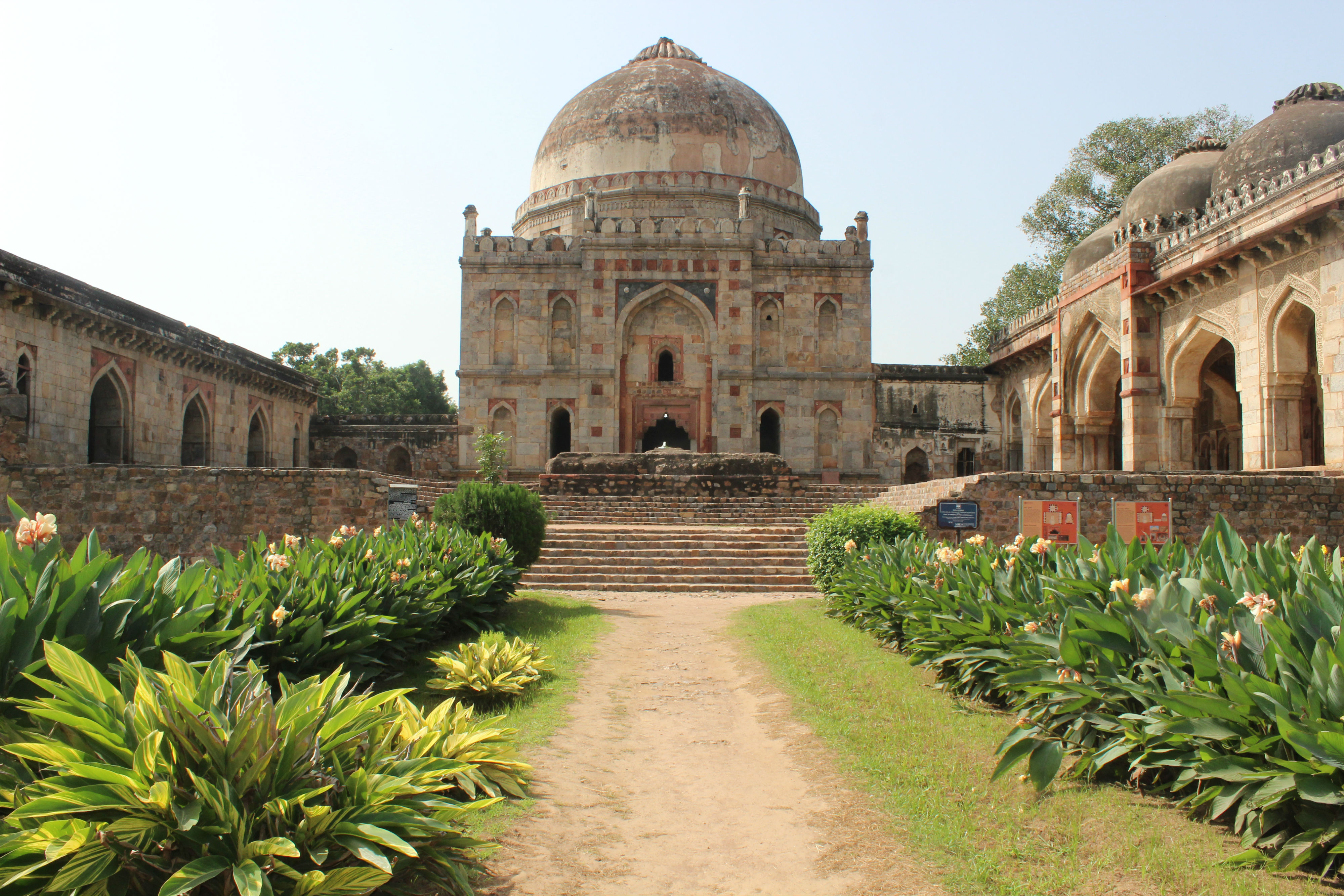 India International Centre
One of the reasons why Lodhi Garden falls under the category of most visited sites in Delhi is its prime location in the heart of the city. Close to the gardens is located the magnificent India International Centre. This famous diplomatic entity is known for the innumerable conferences held each year, cultural exchanges, meetings with the big shots and a mind-blowing canteen! Trust us, guys, the ambiance of this place is a whole new deal altogether. And the only thing that tops it is to walk to Lodhi Garden in your formals and just breathe the day's pressure off!
Yep, now we're talking real. We're hoping that y'all are acquainted with what is the best market in town? The most expensive property in probably all of North India- Khan Market is one of a kind! Walking distance from Lodhi Gardens, this posh market houses some of the best restaurants in town and this is where all those post-conference dinners take place. From the kebabs at Khan Chacha to an Ice-tea pitcher at the Big Chill, you name it and it's there. Magnificent as it is, Khan Market can enable you to make an entire day out of your heritage walk! After a rendezvous with history, how about a tryst with menus that make you salivate uncontrollably. Yum!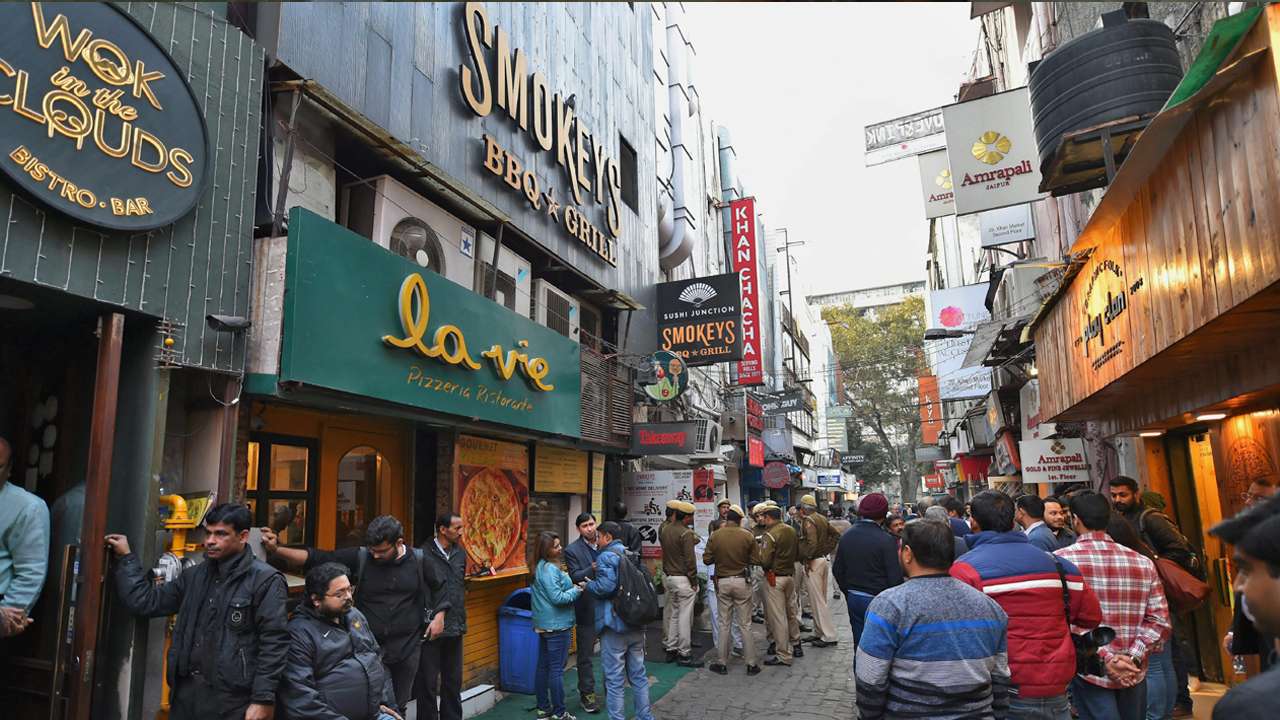 With an amphitheater, a splendid campus, a visual arts gallery, a lotus pond, a cafeteria and an auditorium – India habitat Centre is quite a handful! Located adjected to the Lodhi Garden, India Habitat Centre is one of the most spectacular date sites in India! Deep into greenery and away from the honking horns, it's a date with history and joy!
There's an auditorium on campus, which is considered as one of the best and the classiest of all in the country called the Joseph Stein Auditorium.
With an unbeatable projection of 33 mm, a brilliant supporting infrastructure and interpretation in 4 languages that happens simultaneously – it is a theatre one like no other. Conferences often find this as their spot, with regular film screenings and comedy nights, it's an ideal location for events and finding a reason to get out and grow during your college years!
A usual, pleasant day of a Lodhi Garden walker would require him to visit the library at IHC! If you're an academic, take our advice and find your way to those bookshelves. And the coffee is just … we've run out of the perfect adjective for this place.
We saved the best for the last. What students love the most about India Habitat Centre is the food! The All American Diner is inundated with people of all age groups every morning for the perfect American breakfast! From sausages to waffles, crepes to smoothies – we're more than willing to burn all those calories with a jog in Lodhi Garden post this.
Enamoring people year after year with its upholding of a proud history and culture, Tibet house is a reminder of the struggle of the kind Tibetans who made their way into their new homeland, India. It was established in 1965 under the guidance of His Holiness, the Dalai Lama. The museum inside showcases and displays a solid collection of artifacts, reflecting their cultural history and perseverance.
You must go check the place out for an exceptional collection in is a showcase of Thankas, gilded statues, arms, jewelry and rare manuscripts. Located on the Lodhi road itself, this too is a mere walk of a few steps into a rich and deep lifestyle of the Tibetans. If you're one for feeding the intellect, we recommend going to this place at least once!
A Non-Profit Organization that is registered under Societies Act of 1860, Lok Kala Manch is another delight that comes free of cost with the beautiful Lodhi Garden. Located right off the road, Lok Kala Manch is a platform for budding and professional artists from all over the world! Their relationship with the cultural heritage of India has been going strong for years now. Providing a remarkable platform for young artists to find the right stage for their moves and voice, it is a gift to mankind no less! Ah, the creativity that fills in the ambiance of this place just consumes you. You'll believe us when you're mesmerized by what you see.
Lok Kala Manch is located in the Lodhi Institutional Area of New Delhi and that gives you room for zero excuses to miss this. Trust us, your Delhi University days won't come back! And what's the one factor that makes some fall in love with DU? It promotes such a wholesome, experiential learning environment! Perks of being a South Campus kid, eh?
CoHo Bunks Near South Campus
Transforming the way the young reside in India, coho.in offers luxurious and comforting villas and dorms to students and working professionals at affordable prices. From fully furnished apartments to high-end services like health care, recreational spaces, housekeeping, and maintenance, a formidable Coho community helps you experience your novice years the best way you could imagine!
Timings, safety, and other concerns tend to mess with the wishes of our childish souls. Don't wallow about your stay during these brilliant academic years, our young readers. We come bearing good news. Coho.in understands the predicament you might be in when you're stuck looking for an affordable, homely and luxurious accommodation. You don't have to look too far, little one. We promise you your Epicuria nights, your heritage walks and your comfortable beds along with a security of a home. Pack your bags and let us help you adjust to this colorful world called university life.
You can now check out Coho's residential dorms and villas near South Campus. A dream that would be otherwise unaffordable in South Delhi, you can now add a pinch of hope to all your fantasies and look forward to the best years of your bachelor life!
Summary
Article Name
Lodhi Garden: Delhi's Spin-off to Mumbai's Jogger's Park
Description
Let us talk about the one historical wonder that happens to be one of the most alluring highlights of our very loved Dilli - Lodhi Gardens, friends!
Author
Publisher Name
Publisher Logo